Rice History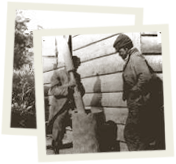 During the Colonial Period, coastal South Carolina was the largest producer of rice in America. The crop arrived in the area around 1685. A brigantine ship, captained by John Thurber and sailing from the island of Madagascar, encountered a raging storm, perhaps a small hurricane, and put into Charleston Harbor for repairs.
With the ship in dry dock, Captain Thurber met Henry Woodward, the town's best known resident, who had the distinction of being the first English settler in the area. Thurber gave Woodward a bag of rice. Some say a peck, others say a bushel. Woodward experimented with the rice, which gave him a good crop. Rice was soon on its way to becoming the area's main cash crop.
The respected Thomas Jefferson traveled to the low country of the Carolinas to find out why Italian rice, at the time, fetched a higher price in the Paris market than Carolina rice. He became its biggest fan. In fact there were at least one hundred MAJOR rice plantations in the region, with names like: Hobcaw Barony, Beneventum, Chicora Wood and Hasty Point, to name a few ... all feeding off of rivers flowing into tidal bays. One of those rivers is the Great Pee Dee, and this is where our flavors start.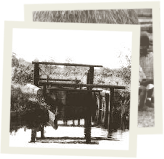 Rice remained a dominant commodity on the coastal rivers of South Carolina until the end of the Civil War, when production started a long decline due to a loss of labor and working capital, and aided by several severe storms. In the early 1900's rice farming disappeared from the state all together. Rice was never grown as a cash crop in the Darlington area where Plumfield Plantation now produces Carolina Plantation Rice, but it was grown there in small plots by slaves who raised it for their own consumption, as they had traditionally in Africa.
In 1997, Campbell Coxe planted 20 acres on his family farm near Darlington, South Carolina. Campbell grows the Della variety. "People who buy our product like its aromatic appeal and its taste, " he says. His rice rates highest on the aromatic scale. He says this is probably because of the rich soil, climate, water and northern latitude where he grows Carolina Plantation Rice.